Everything about the programmes and prices!
EQUESTRIAN DAYS
At the 53d Equestrian Days the Great Plain resounds to more than just the hooves of the galloping horses!
A show extraordinaire, the like of which the Hortobágy has never seen before!
Over recent decades, the Hortobágy Equestrian Days have grown into the region's influential event known beyond the country's borders. The event's main aim is the presentation and popularisation of the past and present of the pastoral culture characteristic of the area, the horse breeding activity of the Máta Stud and fine Hungarian gastronomy. The Hortobágy Equestrian Days show life with horses in a nutshell, embracing professional and amateur horsemen, and horse-loving adults and children alike.

In addition to the high-standard horse shows and competitions lasting several days, events providing worthwhile entertainment, folk art demonstrations, displays showcasing the typical elements of the Hortobágy pastoral culture, the invaluable 101-year-old Landauer carriage and the Nonius horse bred over 200 years, as well as a broad range of popular music concerts ensured that all visitors could find their favourite pastime.


Show jumpig, carriage driving

Caramel, Balázs Fecó, Wolf Kati, B.Tóth László, Dánielffy Gergő és az utazók, RED Production, Kelet Brass Band

Fine Hungarian gastronomy.

Joy, fun and laughter!
News
News and informations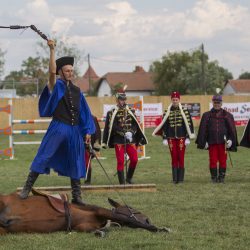 We are getting ready for the next Equestrian Days. And you?
Previous
Next